Is it me or are there juice cleanses everywhere you look? Celebrities do them. Regular moms do them. Lots of people choose to start their New Year with a raw or clean juice cleanse.
Some tout a raw juice cleanse as the best way for quick weight loss.
Others claim that a juice cleanse diet will reset your gut health and improve your digestion.
Still others swear by a clean juice fast to improve the condition and look of the skin, hair, and nails.
All these claims might be true (at least to an extent) but only if the juice cleanse is done the right way.
What Is a Juice Cleanse?
During a typical juice cleanse or fast, you refrain from consuming any solid food for a period of time. However, some modified cleanses allow raw fruit or vegetable soup without any addition of animal protein or fat.
If you do a strict clean juice cleanse, you can drink only fruit and vegetable juices for a set amount of time of your choosing: one, three, or seven days.
The length of your fast will depend on your goals, your overall health, and – if your health is compromised – a go-ahead from a medical professional.
Does Juice Cleansing Really Work?
The general concept behind a juice cleanse is that without having to digest any solid food, your GI tract can get a break while you will still be supplied with crucial ingredients such as vitamins, minerals, and other botanical compounds.
A juice cleanse involves also a drastic caloric reduction, which means that your body, being deprived of the caloric intake, might have to look elsewhere for energy: the stored fat.
What Are the Benefits of Juice Cleanse?
So what exactly are the benefits of a juice cleanse? The most important four are these:
Resetting your gut compromised by unhealthy eating habits.
Helpful for weight loss.
Improving your health and prevent disease.
Helping you recover from illness.
Here is a quick video on the pros and cons of juice cleanse:
Is juicing healthier than eating whole fruits or vegetables?
The science community's answer is a cautious "no". As nutritionists from the Mayo Clinic, fruits and veggies are healthy not only due to their vitamin and mineral content but primarily because they are full of fiber.
When we juice, we discard the fiber. If it were prolonged, losing fiber would be a major problem. However, we can easily survive without the fiber for a short period of time.
"The juice from fresh fruits or vegetables (…) contains most of the vitamins, minerals and plant chemicals (phytonutrients) found in the fruit. However, whole fruits and vegetables also have healthy fiber, which is lost during most juicing."

Katherine Zeratsky, R.D., L.D., Mayo Clinic
Researchers from Harvard have found a potential link between certain juices and health. They concluded that preliminary research suggests that:
"Kale juice may improve lipid levels, such as cholesterol, which affect your risk of heart disease."
"Carrot juice may reduce oxidative stress in cells in women treated for breast cancer."
"Citrus-based juices and carrot juice may reduce heart disease risk".
The gut microbiota is an important contributor to human health. Vegetable/fruit juices provide polyphenols, oligosaccharides, fiber, and nitrate (beet juice), which may induce a prebiotic-like effect.

Susanne M. Henning et al.
How to Do a Juice Cleanse at Home
In order to get the most of a raw juice fast, it has to be done right. Here are the five key takeaways:
1. Prepare Your Body and Mind
First of all, you need to prepare yourself physically and mentally for a juice fast.
You wouldn't want to eat a steak for dinner one evening and start a juice fast the next morning.
Your body would not be finished digesting last night's meal for another 12 to 24 hours or more, depending on your metabolism.
Depending on how long you want the cleanse to last and on your current diet, you should start preparing one to five days before the juice commences.
If you are already eating clean food, don't overindulge in sugars, processed foods, and animal products, probably a day or two will be enough.
If you're eating steak and potatoes on a daily basis, five days of preparations would be in order.
Here's what you'll need to do:
Eliminate inflammatory foods (animal products, vegetable oils, dairy, simple carbs, sugar)
Ditch processed foods
Reduce alcohol
Switch to a plant-based diet
Eliminate any temptations around the house
If you are doing the cleanse while the rest of the family is not, inform them of your choice, and arrange for their eating so that you won't be tempted to nibble off their plates (happened to me on occasion)
The last two points are crucial. By day two or three of the cleanse, you will be starved if not for actual food, then for the idea of chewing something.
I make sure to remove snacks, nuts, crackers of any kind, and buy a few packs of sugar-free chewing gum (but use only in emergencies, as too much of the sweetener in the sugar-free products might mess up with your overall goals of the cleanse).
2. Plan Ahead
Nowadays you can easily find premade juice cleanses. I've done a few of them and they all taste great, are easy to do, delivered to your door, and take away the factor of making a mess in your kitchen.
One of my favorites, local juice spots is the Pressed Juicery. I wrote a Pressed Juicery Cleanse Review on my Instagram page, so I won't repeat it here.
Aside from good taste and accessibility, the best part is that premade cleanses are delivered to you daily or in bulk for three or seven days.
The problem is that they are premade, so even the freshest are not as fresh as freshly squeezed juice you can prepare by yourself right before drinking. Secondly, they are pricy.
If you plan to do a DIY juice cleanse on a regular basis, not only for a fast but also in addition to your regular eating routine, then it makes better sense to invest in a good, cold process juicer. In the long run and it will save you money and will be delivering the freshest juice.
If you go with the premade cleanse, there will be instructions so stick to them.
If you are pressing your own juices, you should aim at making and drinking a 16 oz juice every couple hours for a total of about 6 juices per day. You can drink water in between.
Some people drink tea and coffee during a cleanse. I try to stick to herbal tea if at all, just trying to give my system a break also from caffeine.
Since cleaning a juicer is a pain in the butt, I usually juice twice a day, making three juice portions each time: usually green juices in the morning (recipes below), and root juices in the afternoon.
3. Know What to Expect and Don't Get Discouraged
I do a juice cleanse three times a year. Before I even start, I feel pumped up and excited but soon the reality sets in. The first half a day is usually completely fine. Since my abdominal surgeries, I'm used to intermittent fasting and usually don't eat anything till noon anyhow.
By the evening you can expect to start getting really hungry and cranky from lack of food, lack of caffeine, and lack of energy. All of a sudden, you won't be able to think about anything else but how hungry you are. But, no worries, This will pass.
Fortunately, the first day is actually the hardest! During my last cleanse at the beginning of the year, I was famished that first evening. Coming off the Christmas overindulgence it was pretty difficult to not eat the entire day. So I had to implement some changes:
Went to bed early (9 PM)
Made sure to keep busy with hands-on activities (cleaning, gardening, walking with the kids, light exercise)
I was moody, "hangry", and as soon as I noticed that I practiced more mindfulness and deep breathing before lashing out at anybody
4. Listen to Your Body
My gut is pretty sensitive gut (IBS) and so I have been testing what veggies I tolerate well and which ones cause me gas, bloating, and the works.
I know that I can eat broccoli, spinach, and kale cooked and raw, but I get very uncomfortable eating radishes, cauliflower, or cabbage (unless it is fermented as sauerkraut). While some veggies give me trouble when eaten whole, I am perfectly fine with juicing them.
It is very important to listen to your body when juicing. Your stomach should feel good on the juice diet (aside from feeling a bit hungry). If it is bloated, growling, or making its presence known, you are most likely juicing something you should not be eating.
5. Get Off the Cleanse the Right Way
Pat yourself on the back. You did it! However many days you decided to devote yourself to a cleanse, it did you some good.
You can expect to lose a few pounds of weight after a three-day cleanse, some of it will come back as you start eating because part of that weight loss is due to water loss (surprise, even though you juiced and juiced!)
Whatever you do after the cleanse, try not to shock your body by going straight back into your old diet (unless it is a super clean vegan or vegetarian diet).
Plan to reintroduce your normal food slowly, and hopefully, never go back to the unhealthy habits of eating processed Frankenfoods.
---
What to Do After the Homemade Juice Cleanse
1. Day one post juice cleanse: drink a smoothie for breakfast to reintroduce fiber, eat a blended soup for lunch and dinner. Your body is used to liquids only, so it makes sense to introduce solids in this measured way at first.
2. Day two-three: Move to plant-based foods – salads, buddha bowls, hearty soups with complex grains like kasha or farro.
3. Days four and beyond: you can slowly bring back things like fish, meat, dairy, gluten, and so on.
I would still advise against anything deep-fried or too heavy in general as it will just sit in your gut for days and then you will start wondering, why the heck did I even bother with that cleanse.
Juice Cleanse Recipes:
Greens (makes 2 16oz juices)
8 Celery sticks
3 smaller Cucumbers
1 cup of Kale
2 cups of Spinach
4 green apples
1 squeezed Lemon
10 Parsley or Cilantro sprigs
Roots (makes 2 16oz juices)
10 Carrots
5 Beets
4 red or green apples
1 squeezed Lemon
2-inch long piece of Ginger
If you find yourself really starving, you can add a few calories by adding an evening Almond or Cashew Milk to the mix:
Cashew or Almond Milk (for 2 16oz milks)
2 cups of raw Cashews or raw Almonds (almonds will have to be soaked overnight, cashews won't)
1 quart of filtered Water
3 TBS of Vanilla extract or 1 scrapped Vanilla Bean
1/2 tsp of Cinnamon or Tumeric (optional)
3-4 TBS of Agave Syrup or 4 pitted and soaked Dates
Mix everything in a food processor or blender. After it is thoroughly blended, run through a sieve lined with cheesecloth to catch the solids. Drink the nut milk.
Where to Buy Your Produce?
In case you have no easy access to organic fruits and veggies, you can see if Farm Fresh To You could deliver a box of great produce at very reasonable prices.
The banner below is for an offer of $40 off your first four boxes! You can choose the type of box, the frequency of delivery, even what goes into each box. No surprises, just tasty fruits and veggies delivered to your door.
This post contains affiliate links. If you click on one and purchase the product I will get a small commission at no additional cost to you. For more info see the Terms and Conditions Page. Thank you for supporting Oko-Logic.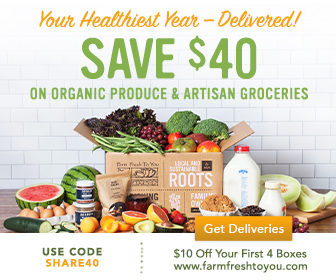 ---
Not into Juicing at Home?
I get it. Not everyone has the time to juice or interested in the initial investment in a good quality juicer. Or maybe, you just want to see if juicing is for you before taking the plunge.
In that case, it is probably best to buy pre-made juices. The one I am sharing below is from Project Juice and it is a pick-up and delivery service with great juices. Check it out!
Final Word on Juice Cleansing
Juicing detox might not be for everyone but you'll never know until you try it.
Whenever I've done it, it was not easy, but I went as much as a week on a strict juice diet and I felt great afterward. Give it a try and see for yourself. You might love it!
And if you don't, well, there is always the water fast as an alternative:)
I wrote here about my struggles with overcoming my addiction to sugar. My most recent juice cleanse has been very helpful in this regard.
After the fast, I had no cravings for sugary desserts, candy, or other sweets. I consider this a much bigger win than the few pounds I was able to shed.
I hope I'll be able to stick to my low-sugar-lifestyle… at least until Valentine's Day. Lol <3
---
If you want to hear more about healthy swaps for your nutrition but also skin and body care, check out this instant download PDF