Is there anything better than an aromatic, freshly roasted, ground, and brewed cup of coffee to start your day? For me, nothing comes close.
But, as a cancer survivor, I am constantly thinking about what is good for my health and what should be avoided. In some cases, the answer is easy. There is a lot of research about risks associated with processed meat consumption for example. The same goes for smoking tobacco.
In other cases, though, the answers are not so clear-cut. Coffee is one of those examples. Scientific evidence shows both benefits and detriments when it comes to coffee and cancer survivorship.
So what does it all mean? Is coffee going to give me cancer? Or, is it going to help me keep it at bay? Should I stop drinking coffee? Or, should I up my intake to get more of the potential benefits?
A few years back, a Los Angeles judge ruled in favor of putting a cancer warning on coffee sold throughout California. Since I live in California, every time I buy a bag or jar of coffee to bring home, I am looking at a huge sign saying that it is a possible carcinogen.
This is especially confusing since, in 2016, the World Health Organization assessed the cancer risks associated with coffee and concluded that drinking coffee is NOT carcinogenic based on available evidence.
If WHO removed coffee from its "possible carcinogen" list, so why is California mandating that coffee comes with a cancer warning?
Here is what I found out about recent research on coffee and cancer. I looked through several clinical studies and will try to provide a simplified digest here to gain some clarity.
---
---
What Are the Key Constituents in Coffee?
Coffee is made up of a multitude of biologically active compounds including caffeine, flavonoids, lignans, and other polyphenols. Some of these constituents are beneficial to our health, while others might be harmful.
Some of the most beneficial constituents in coffee are polyphenols. Their main contribution to positive health outcomes in coffee drinkers is their ability to inhibit oxidation processes in the body.
Acrylamide, on the other hand, is the potentially harmful compound targeted by the California warmings. If consumed in excess, it might have detrimental effects on the human body.
However, it is also important to stress that there are factors other than the compounds in the coffee itself that might have beneficial or harmful impacts.
Drinking coffee is associated with speeding up our metabolism which can be a positive factor in helping to fight obesity which itself is a contributing factor to many cancers and other causes of death.
On the other hand, it's been observed that many coffee drinkers are also tobacco smokers, which of course is one of the proven and most dangerous carcinogens known to man.
Is Coffee a Carcinogen?
When I heard about acrylamide at first, I was very concerned. Apparently, exposure to high concentrations of this chemical can be damaging to the human nervous system. What is this acrylamide?
Acrylamide is a white, odorless crystal chemical that manufacturers use in several industrial and chemical processes, including the production of plastics, textiles, dyes, and paper, as well as the treatment of drinking water.

Medical News Today
Small amounts of acrylamide are formed during the roasting process of coffee. The amounts vary from coffee to coffee, the lowest (179 mcg/kg) being found in regular roasted coffee, and the highest in coffee substitutes like chicory (818 mcg/kg), and somewhere in the middle lies instant coffee.
The amounts in regular roasted coffee are so small that you'd have to drink gallons and gallons of coffee per day for the acrylamide to have any impact.
In fact, despite the acrylamide presence in roasted coffee, numerous clinical studies concluded that there is no link between drinking the beverage and an increased risk of cancer.
If you are concerned about acrylamide exposure, you may consider limiting your intake of French fries, chips, and cookies, rather than giving up coffee if you love it.
Current Research About Coffee And Cancer
Because coffee is such a popular drink all over the world, there have been numerous studies about the possible linkage between coffee and cancer.
Probably because coffee is such a complex drink/food, some of the studies conclude a positive impact, while others still caution against high coffee consumption when dealing with or trying to prevent cancer.
The majority of studies have shown that coffee drinking is in fact associated with a lower risk of dying from all causes of death. However, associations with cancer overall remain unclear. The picture is a bit clearer when looking at specific types of cancer.
Coffee drinking is not a cause of female breast, pancreas, and prostate cancers, but may reduce the risk of uterine endometrium and liver cancers. The evidence was judged to be inadequate for other cancer types.

American Cancer Association
A systematic review of a multitude of studies concluded this:
There are of course other factors to consider when looking at the coffee and cancer connection.
A number of older studies did find a link between drinking coffee and developing cancer. Upon further evaluation, though, the cause was found to be smoking which often accompanied the habit of coffee drinking rather than the coffee itself.
For example, early research concluded that coffee was a contributing factor to the development of bladder cancer, but the actual causal link was later found to be tobacco smoking.
Another factor to consider is the temperature of the coffee.
The WHO review classified beverages consumed at very high temperatures (defined as over 65°C or 149ºF ) as "probably carcinogenic to the human esophagus." Here again, it is not the coffee itself but instead the way it is consumed. To lower the risk, it's advisable to allow the drink to cool slightly or to add some cold milk or malk to it to lower the overall temp.
Can Drinking Coffee Actually Lower the Risk of Cancer?
Well, it would seem so, according to some recent research which found that people drinking coffee had a lower rate of cancer than those who did not drink any coffee.
According to the current state of knowledge, coffee consumption is not associated with the majority of cancers although the results of studies on bladder and lung cancer remain conflicting. In case of colorectal, liver and breast cancers, coffee drinking may even have a protective effect.

Coffee consumption vs. cancer risk – a review of scientific data (NIH)
Stunningly, the more coffee was consumed, the better the outcomes in this particular study. Higher consumption was associated with an 18% lower risk at developing cancer.
Coffee consumption seems generally safe within usual levels of intake, with summary estimates indicating largest risk reduction for various health outcomes at three to four cups a day, and more likely to benefit health than harm.

Coffee consumption and health: umbrella review of meta-analyses of multiple health outcomes (BMJ)
When it comes to research about specific types of cancer, the data are promising in favor of coffee.
It's been suggested by research that drinking coffee might lower the risk of some types of cancer, including head and neck, colorectal, breast, and liver cancer, even though the mechanism of such beneficial effects of coffee is not yet completely understood.
For instance, a 2020 meta-analysis suggested that increasing coffee consumption by about one cup per day may be related to a reduced risk of colon cancer.
There is also growing evidence that drinking coffee might lower the risks of insulin resistance and type 2 diabetes, which in turn have been linked to higher risks of colorectal, liver, breast, and endometrial cancers.
---
Can Coffee Lower the Risk of Colon Cancer?
For a survivor of colorectal cancer (and an avid coffee drinker), this is the most crucial question.
Dr. Figueiredo of Cedars-Sinai here in Los Angeles researched colon cancer risk from drinking coffee and concluded that:
Coffee has been associated with lower cancer risk in many GI track cancers, including colon, liver, and pancreatic cancer.

Dr. Figueiredo, Cedars-Sinaid.org
Scientists suggest that there are potential mechanisms that make coffee inhibit or lower the risk of cancer:
Diterpenes, phenolic phytochemicals, and chlorogenic acid present in coffee might have potential anti-carcinogenic properties
Coffee stimulates colon motility, which reduces the length of time food and potential mutated genes are in contact with the intestinal mucosa
Caffeine itself inhibits colon cancer cell growth
To check more info on specifically coffee and cancers of the GI tract, see Coffee consumption and cancers of the digestive tract
Coffee and Cancer – to Drink or Not to Drink?
Personally, I will be sticking to coffee. I drink a cup or two a day, and I enjoy every minute of it. Afternoon, I switch to tea, usually green, or my favorite health drink – Matcha.
When going through cancer treatments, I was on and off coffee just because I was not sure about its effects on my risk of beating the disease and/or reoccurrence.
Having done this research, I am now fully convinced that drinking my cup of morning Joe and maybe another pick-me-up around noon poses an unlikely health risk, and in fact, it might be beneficial in decreasing the risk of certain cancers.
Coffee has many benefits:
Caffeine is a stimulant that can help us stay on task and focused
Caffeine temporarily increases blood pressure which is not a bad thing (unless of course, you are dealing with high blood pressure issues)
The beneficial polyphenols and lignans in coffee have amazing antioxidant properties.
The key to reaping the benefits of coffee might be moderation.
If you are concerned about the acidity of coffee, look for low-acid coffee roasts.
Second, in order to avoid the risk of acrylamide exposure, it might be wise to stick to actual coffee and not an instant version of coffee substitutes. Moreover, maybe a few cups per day should suffice.
Third, remember the high-temperature concern. Do not drink scalding hot coffee (or any other beverage).
Fourth, when enjoying coffee, make sure to avoid other harmful behaviors like smoking or excessive sun exposure. These are much riskier when it comes to cancer than that delightful cup of Java.
My Favorite Coffee Brands
This post may contain affiliate links. If you click on one and purchase the product I will get a small commission at no additional cost to you. For more info see the Terms and Conditions Page. Thank you for supporting Oko-Logic.
---
Keeping that acrylamide issue in the back of my head, I researched the best roasting practices and found a few brands that I especially enjoy.
I love their medium roast blend! If you like it, you can save big on a subscription.
Memory Lane Medium Roast Subscription
---
Another great company I enjoy is Grateful Earth. They actually take their coffee to the next level by adding wholesome additives like adaptogens (Chaga and Lion's Mane mushrooms) and antioxidants (turmeric and L-Theanine).
And now, Grateful Earth offers a 20% discount with the Coupon code "NEWSPRING20"

Espresso Super Brain Blend Instant Coffee – $34.99
from:
Grateful Earth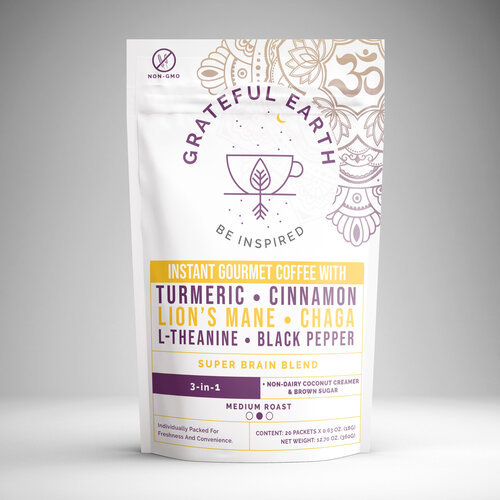 3-in-1 Super Brain Blend Instant Coffee – $32.99
from:
Grateful Earth
---
If you love coffee, keep enjoying it. I know I will!
---
Before you go, check this out for more info on healthy nutrition, detoxing, and clean skincare swaps to improve your health.